Main content start
Back
Hong Kong Early Childhood Education Manpower, Pay and Benefits Survey
25 JUN 2021
The Hong Kong Early Childhood Education Manpower, Pay and Benefits Survey jointly organized by the Centre for Human Resources Strategy and Development of the School of Business and Early Childhood and Elementary Education of the School of Continuing Education of Hong Kong Baptist University is completed. This survey aims to understand the current pay practices of schools operating in the early childhood education sector in Hong Kong SAR, specifically on the salary level of various key positions in kindergartens. By having such timely information, when formulating school-based decisions, individual school administrators and governing bodies could have a better synopsis of the market practices relating to talent and reward management. Although the survey results are not intended for advising the authorities on reviewing related policies, they can be used as an additional source of reference by policymakers.
The survey involves a final sample of 102 schools, about 10% of the 1049 kindergarten schools in Hong Kong, covering the period between 1 September 2019 and 30 August 2020. Survey Report contains analyses in different areas of pertinent interest to schools in Hong Kong, namely, the actual annual compensation of benchmark positions, starting salaries for fresh graduates, employee benefits, teacher turnover, actual and salary adjustment trend, etc. The data, analyzed by the participation of the education scheme, school type, school size, provide meaningful comparisons from various perspectives.
The sample profile statistics of the current survey are similar to the 2019/2020 statistics from the Education Bureau. The school profile statistics cover the participation in the 2019-2020 Kindergarten Education Scheme, school type (non-profit making or private independent), and school registration (under EDB or/and SWD). The current sample also includes schools of different sizes, including large-sized schools (Number of students is 330 or above) and small-sized schools (number of students is below 330).
The average annual salary of benchmark positions varied according to whether the school participated in the 2019-2020 Kindergarten Education Scheme and the type of school. The survey result showed that for schools not participating in the 2019-2020 Kindergarten Education Scheme, the average annual salary for Principal Grade, Senior Teacher, and Class Teacher were HK$643,470, HK$496,187, and HK$339,913, slightly higher than those of schools having participated in the Scheme (HK$629,999, HK$465,010, and HK$333,708). For Non-profit-making Schools, the average annual salary for the Principal Grade, the Senior Teacher, and the Class Teacher were HK$638,418, HK$478,052, and HK$337,814, higher than those of the Private Independent Schools (HK$591,699, HK$426,691, and HK$303,783).
The average salary for 2019 fresh graduates and 2020 fresh graduates were HK$21,697 and HK$22,713 respectively. Among the benefits provided by schools, the 5 most common benefits provided were compassionate leave (provided by 91% of the sampled schools), marriage leave (80%), examination leave (75%), outpatient medical benefits (71%), and hospitalization (55%). Survey result also showed that the overall turnover rate for full-time teachers was10.6%, with the most important reason as workload (100% of schools selected this item), followed by family issues (80%) and health reasons (57%). Within the survey period, September 2019 – August 2020, the average salary adjustment rate was 4.8%. The projected salary adjustment for the period Sept 2020 – August 2021 is 2.96%.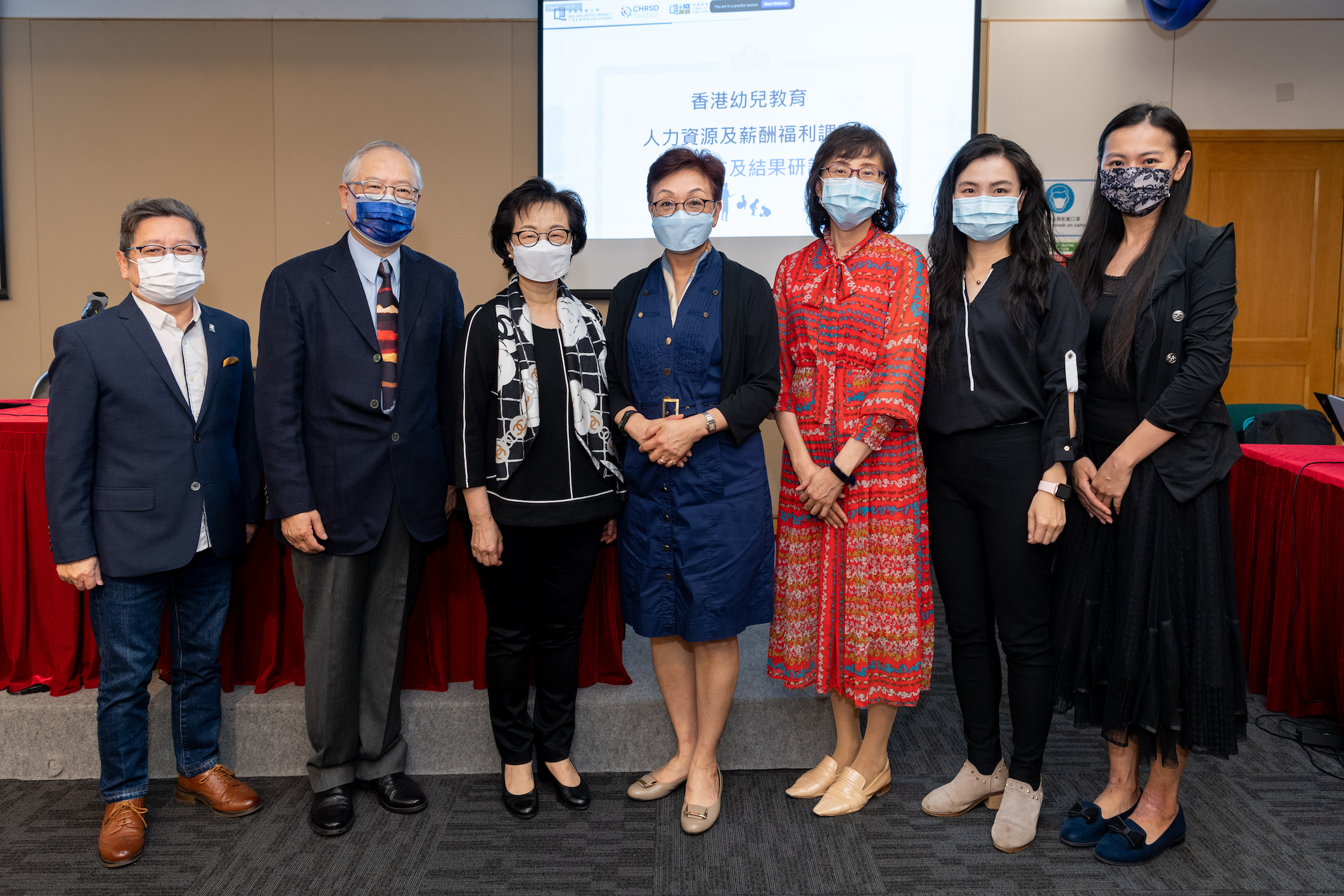 (Third right) Dr. Amelia Lee, MH, Associate Dean (Programme Development) and Head of Early Childhood and Elementary Education; (Second right) Dr. Juley Xiao, Associate Director, Centre for Human Resources Strategy and Development, HKBU School of Business; (First right) Dr. Cecilia Tam, Lecturer, School of Continuing Education, HKBU; (First left) Prof. Randy Chiu, MH, HKBU Professor Emeritus, School Supervisor, HKVNSAAS Kindergarten (KCC), School Manager, St. Joseph's Anglo-Chinese School; (Second left) Mr. Wong Kwok Kong, Founding Principal Methodist School, Former Head of the School Education Department ELCHK; (Third left) Dr. Sanly Kam Shau Wan, MH, Council of Non-profit Making Organisations for Pre-Primary Education - Consultant and Founding Chairperson, Pacific Early Childhood Education Research Association (Hong Kong) - Vice Chairman, Commission on Children - Non-official Member; and (Forth left) Ms. Chow Wai Chun, Former Principal Five Districts Business Welfare Association Cheung Chuk Shan Kindergarten, President, Hong Kong Early Childhood Educators Association, announced the Hong Kong Early Childhood Education Manpower, Pay and Benefits Survey.
Hong Kong Early Childhood Education Manpower, Pay and Benefits Survey Results
School Profiles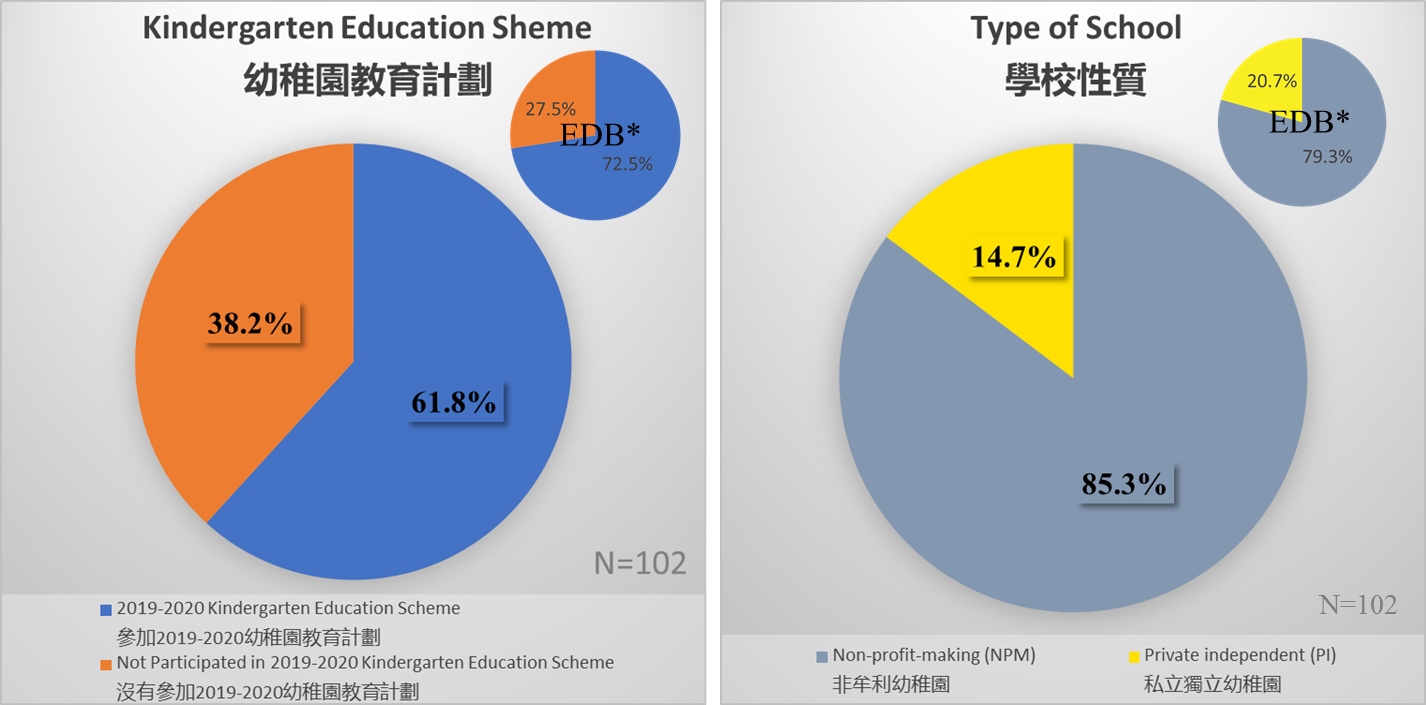 * The small pie charts show the percentage statistics of the 2019/2020 academic year from the School Education Statistics Section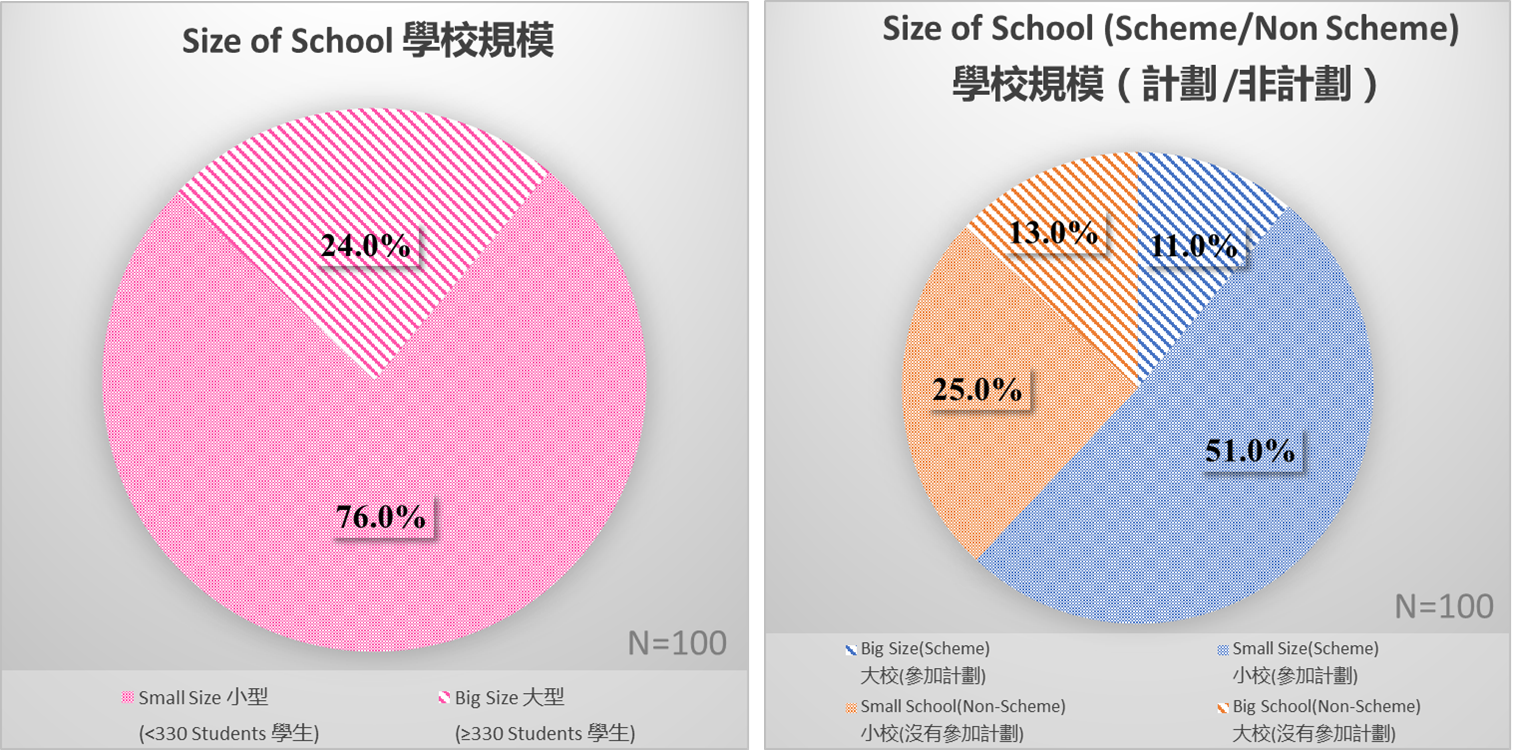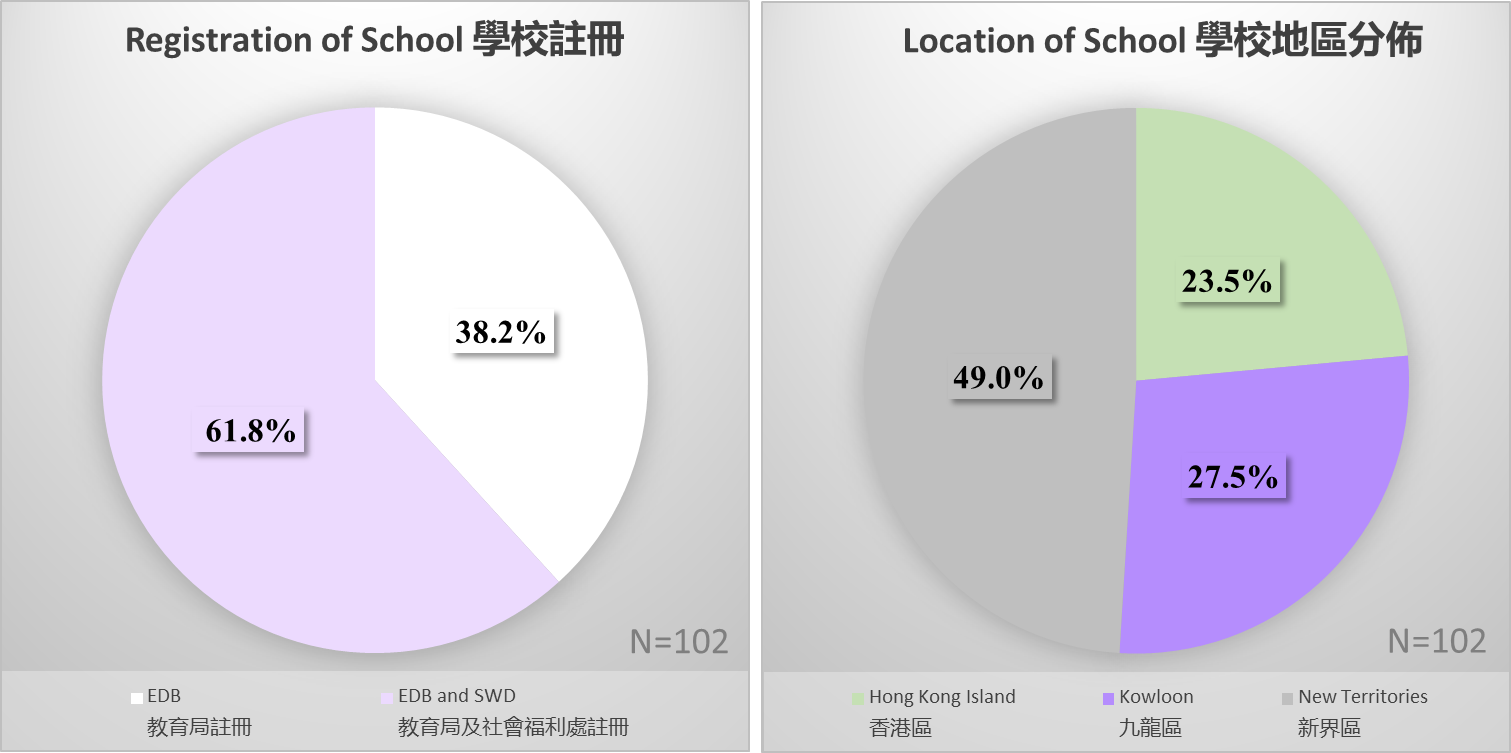 Annual Salary of Key Positions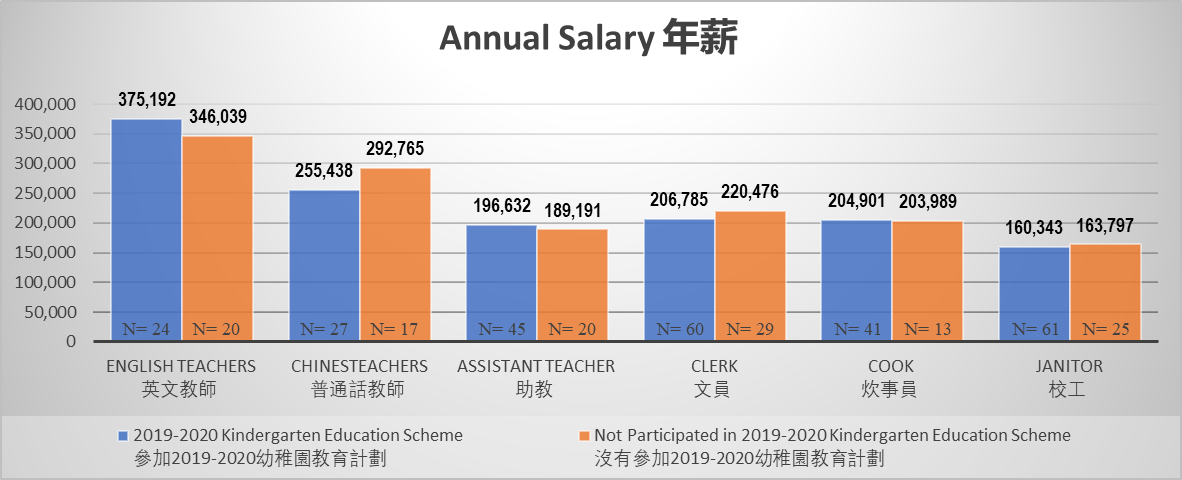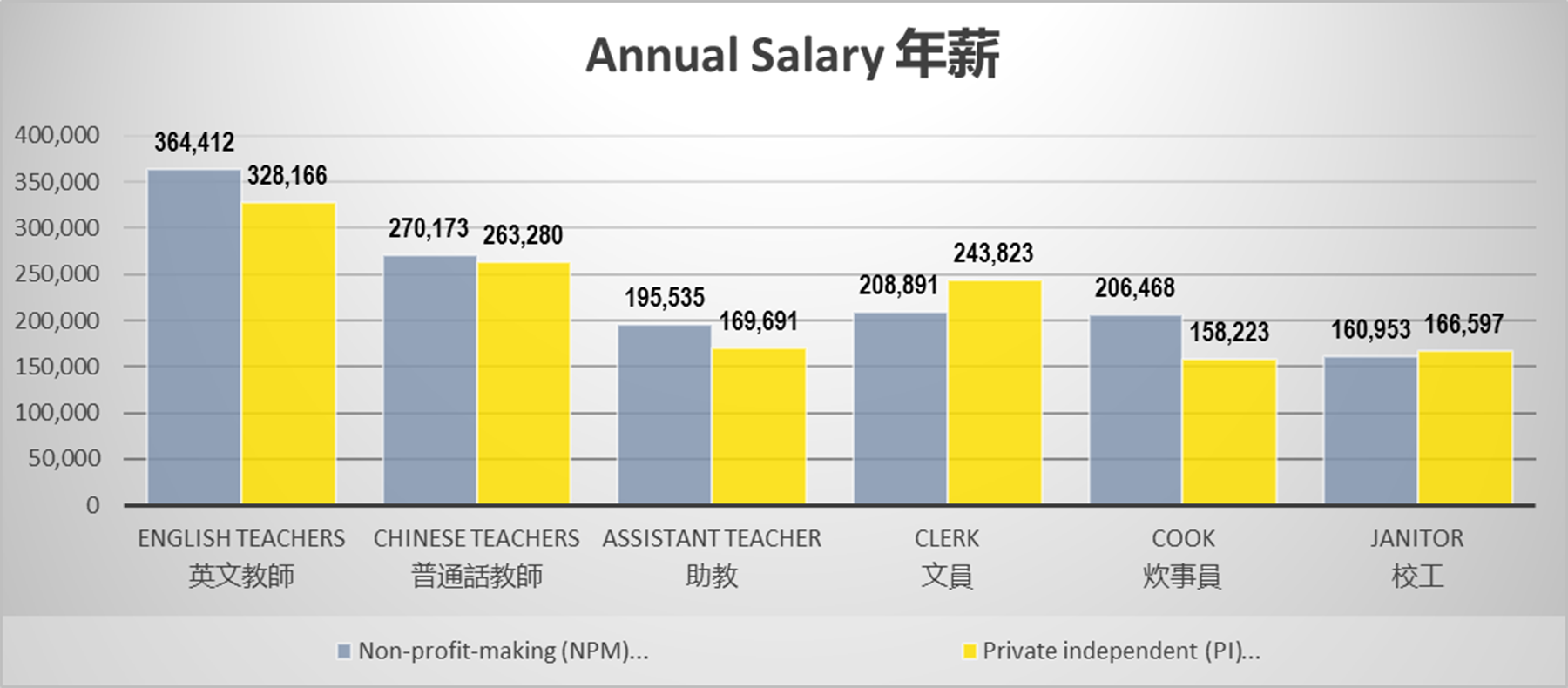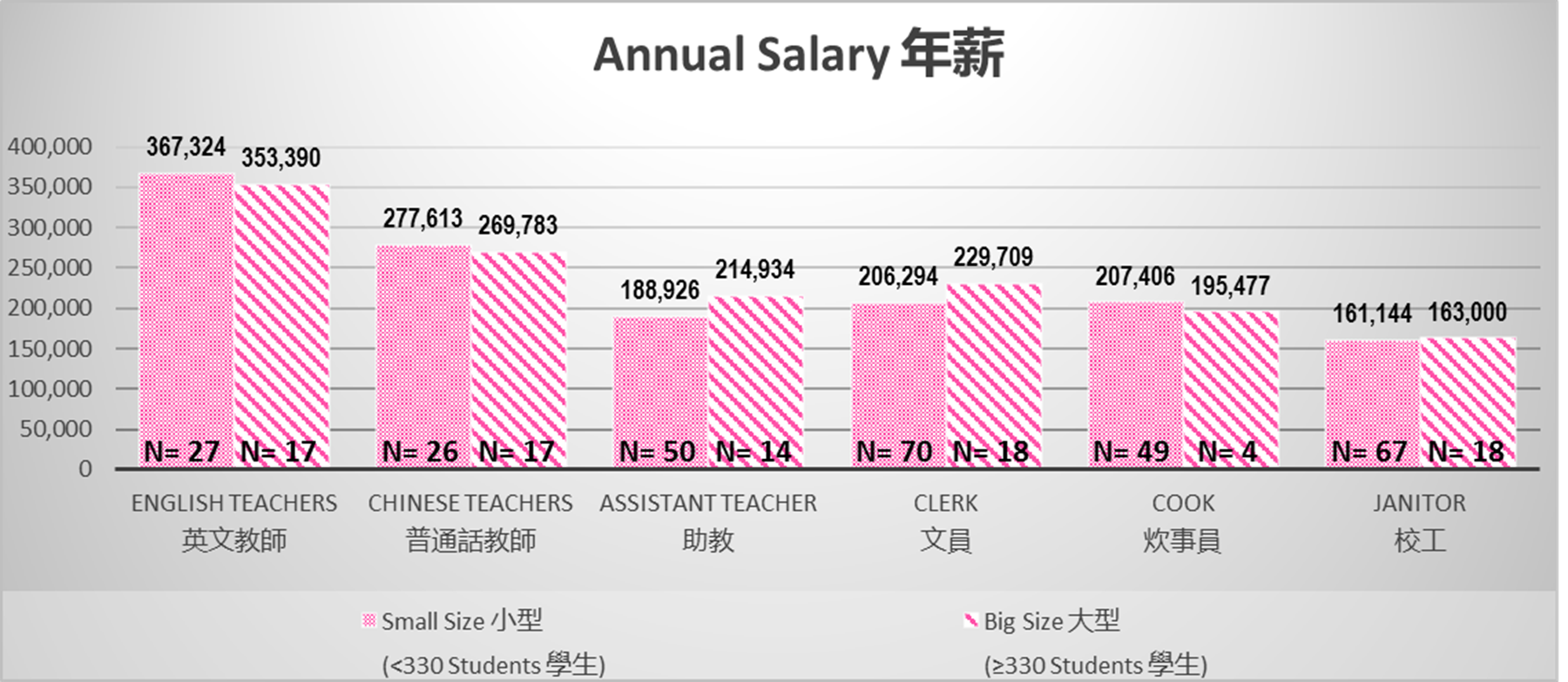 Fresh Graduate Starting Monthly Salary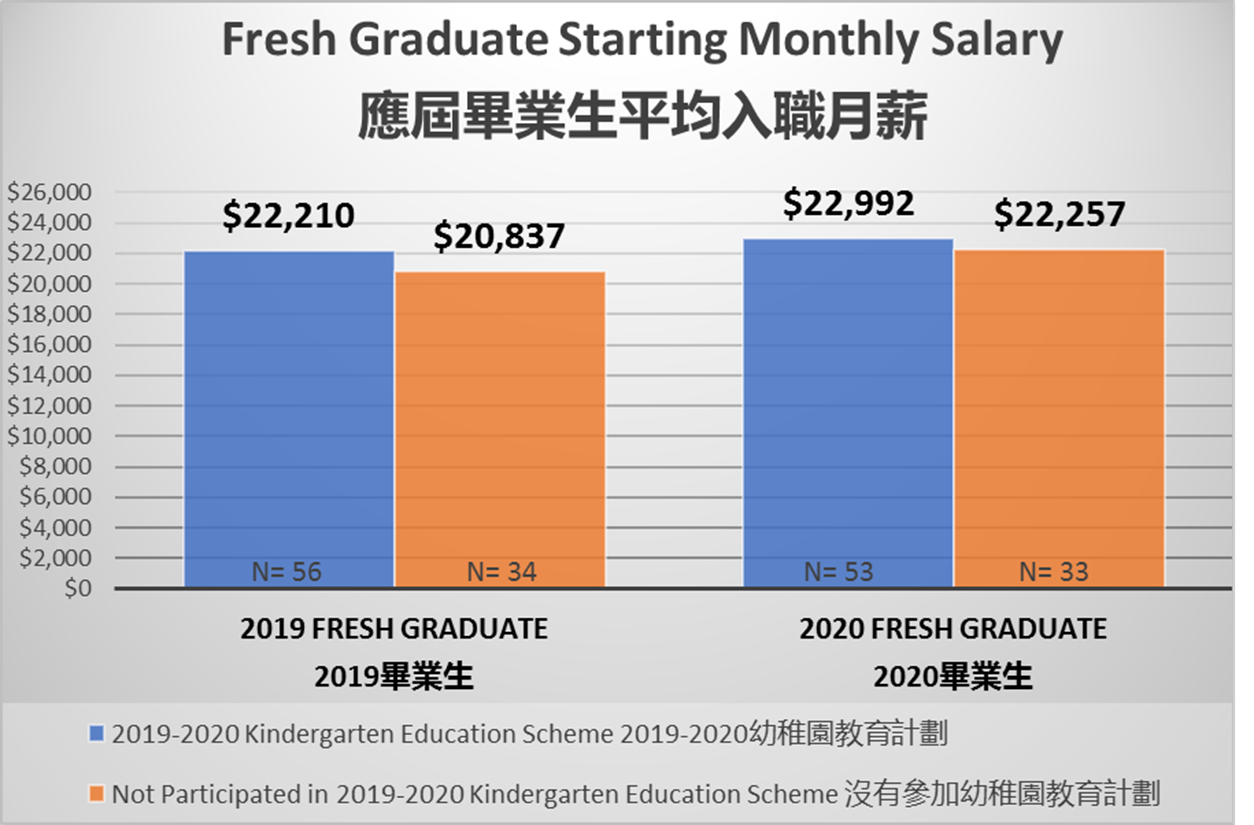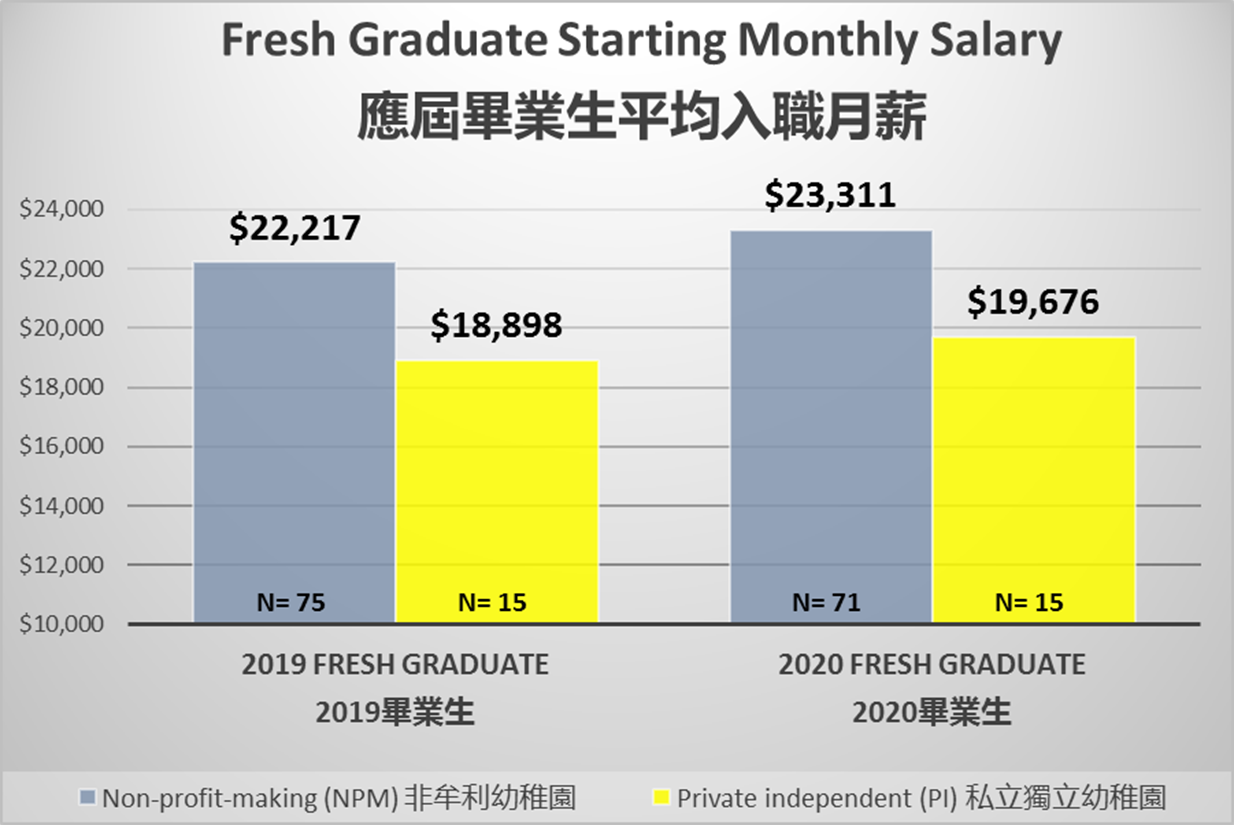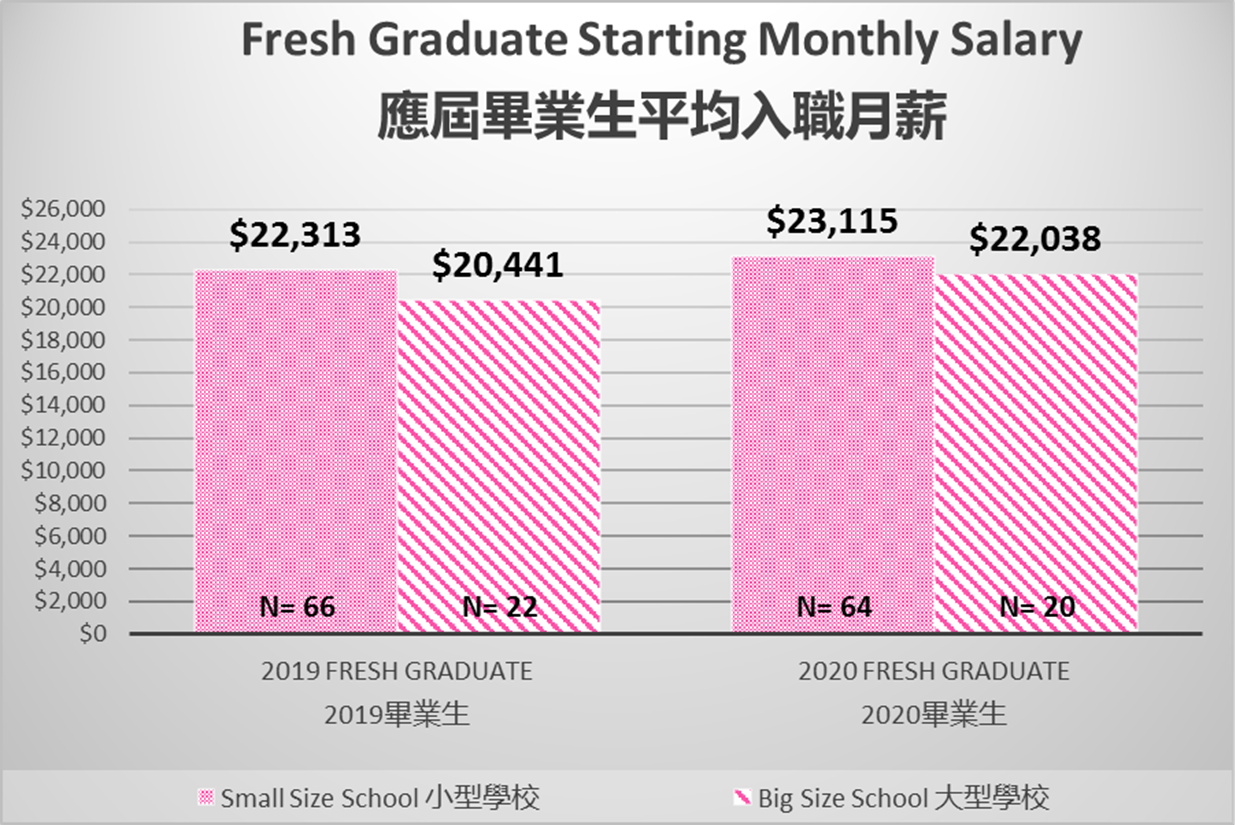 Benefits
The 10 most popular benefits offered by schools

The 5 most unpopular benefits offered by schools

Full-time Teacher Turnover Rate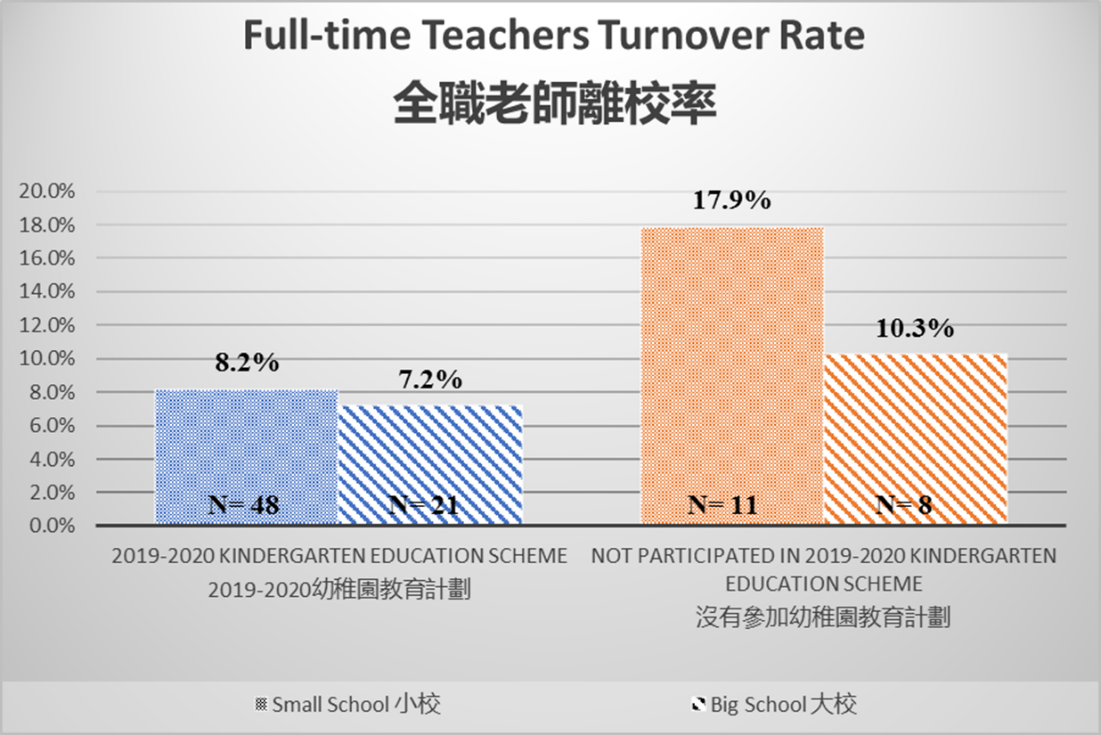 Reasons for the Full-time Teacher Turnover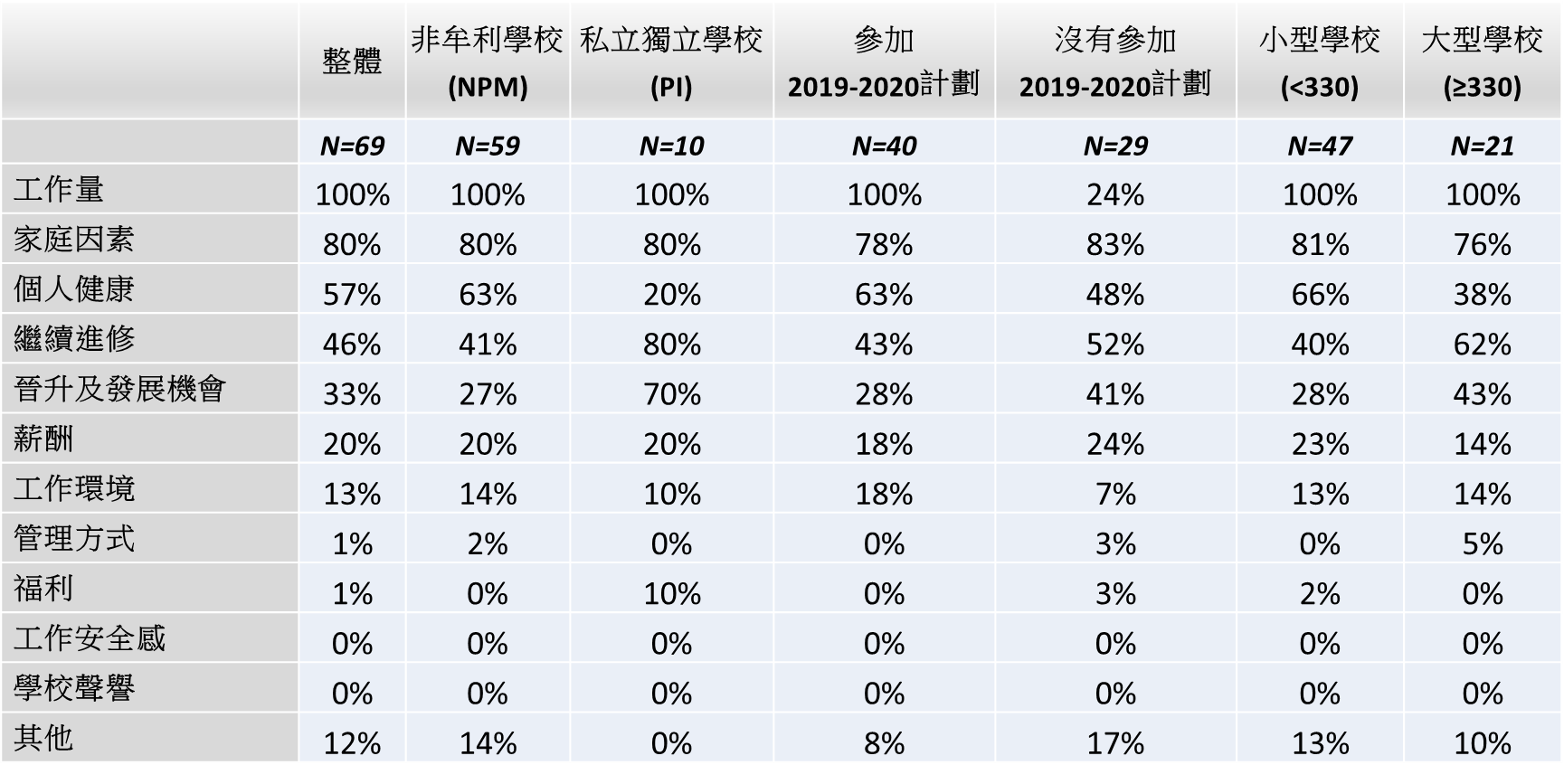 Salary Adjustment