Since its establishment in 1975, the School of Continuing Education (SCE) of Hong Kong Baptist University (HKBU) has been devoted to providing quality education. 2020 is a landmark year for us – not only is it the 45th anniversary of SCE, it also marks the 20th birthday of the College of International Education (CIE) and the HKBU Kindergarten (HKBU KG) underneath SCE.
Upholding the tradition of HKBU, SCE advocates whole-person development and lifelong learning by offering a rich diversity of courses and programmes to meet societal needs. SCE strives to innovate in a caring culture, as the theme of our 45th anniversary, "We Care.We Create", suggests. A series of themed celebratory events will soon follow to commemorate this special occasion.
To address rapid technological developments and new challenges in an ever-changing world, continuing education has become crucial, while the demand for innovative and flexible teaching and learning is also on the rise. As a long-standing and quality education provider, SCE is pleased to have a role to play in this regard. The road ahead may be challenging, but it is also a time for us to show our worth and contribute to society. With our abiding commitment to and extensive experience in continuing education, our academics and administrators are working together to build a better future for all.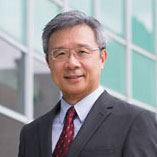 Prof. Ronald C.K. Chung
Dean, School of Continuing Education
Hong Kong Baptist University