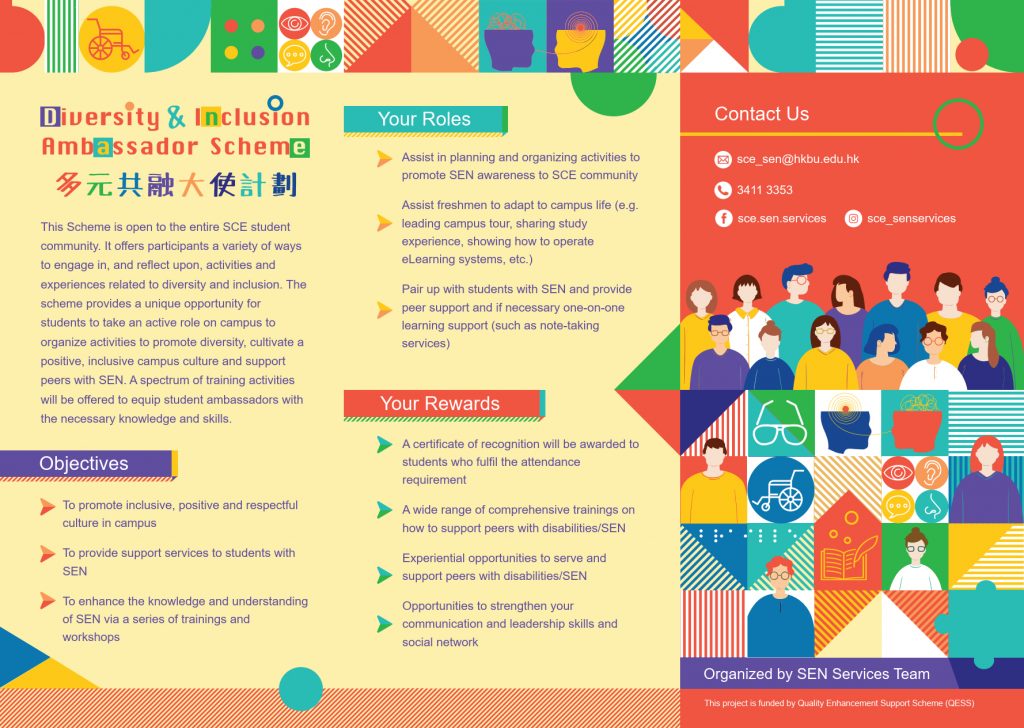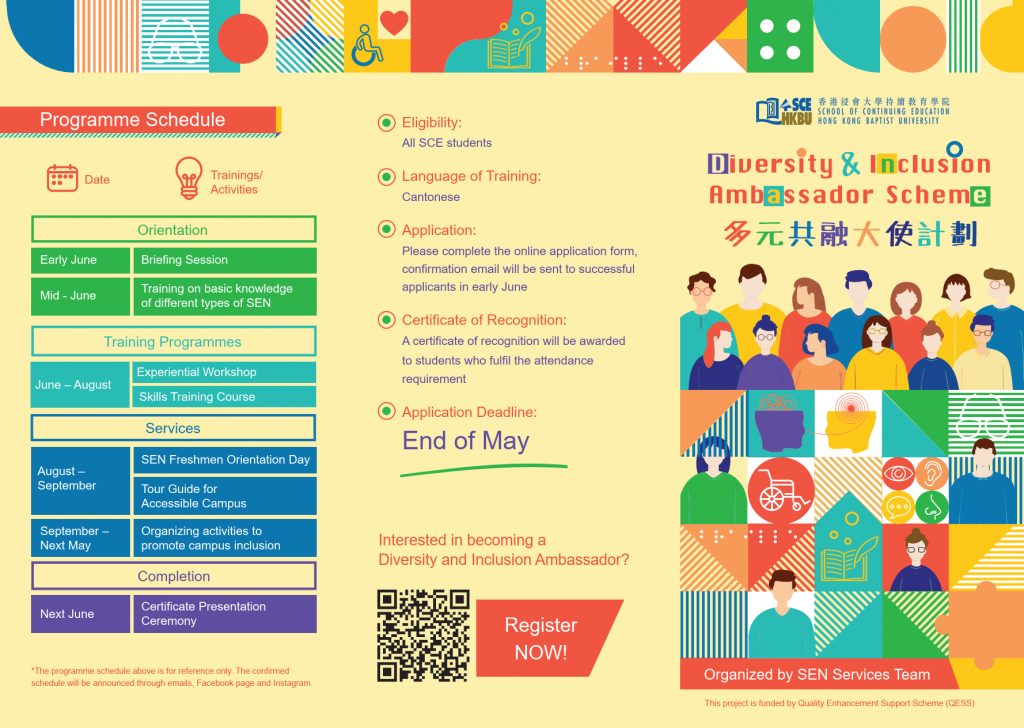 Diversity and Inclusion Ambassador Scheme 2022-2023
This Scheme is open to entire SCE student community. It offers participants a variety of ways to engage in, and reflect upon, activities and experiences related to diversity and inclusion. The scheme provides a unique opportunity for students to take an active role on campus to organize activities to promote diversity, cultivate a positive, inclusive campus culture and support peers with SEN. A spectrum of training activities will be offered to equip student ambassadors with the necessary kowledge and skills.
Objectives:
(1) To promote inclusive, positive and respectful culture in campus.
(2) To provide support services to students with SEN.
(3) To enhance the knowledge and understanding of SEN via a series of trainings and workshops.
Your Roles:
(1) Assist in planning and organizing activities to promote SEN awareness to SCE community.
(2) Assist freshmen to adapt to campus life. (e.g. leading campus tour, sharing study experience, showing how to operate eLearning system, etc.)
(3) Pair up with students SEN and provide learning support. (such as note-taking services)
Your Rewards:
(1) A certificate of recognition will be awarded to students who fulfil the attendance requirement.
(2) A wide range of comprehensive trainings on how to support peers with disabilities/SEN.
(3) Experiential opportunities to serve and support peers with disabilities/SEN.
(4) Opportunities to strengthen your communication and leadership skills and social network.
For enquiries, please contact SEN Services Team at 3411 3353 (sce_sen@hkbu.edu.hk).
多元共融大使計劃 2022-2023

這項計劃開放給整個SCE學生社群,並為各參加者提供了多種參與、反思、多元及共融相關的活動和體驗的方式。計劃為學生提供了一個獨特的機會,讓他們在校園中培養、多元共融的校園文化,並支持有特殊教育需要的朋輩同學。計劃將會提供一系列培訓活動,使學生大使能學習必要的知識和技能。
秉承香港浸會大學給予平等機會的精神,香港浸會大學持續教育學院致力為所有學生提供平等的教育機會,包括有殘疾或特殊教育需要(SEN)的學生。特殊教育需要服務隊為特殊教育需要學生提供一站式服務,以實踐我校致力為所有學生提供共融、正面及受尊重的學習環境的理念。
目標:
(1) 在校園內推廣包容、積極和尊重的文化。
(2) 為有特殊教育需要的學生提供支援服務。
(3) 透過一系列培訓及工作坊,增進同學對特殊教育需要的認識和理解。
你的角色:
(1) 協助規劃和組織活動,以提高 SCE 社群對的SEN的 意識。
(2) 協助新生適應校園生活。 (如帶領校園參觀、分享學習經驗、展示如何操作eLearning系統等)
(3) 與學生 SEN 配對並提供學習支持。 (例如筆記服務)
你能得到:
(1) 符合出席要求的學生將獲頒嘉許證書。
(2) 關於支援殘疾及特殊教育需要人士的廣泛綜合培訓。
(3) 服務和支援殘疾及特殊教育需要人士的體驗機會。
(4) 給予同學加強溝通和領導技能以及社交網絡的機會。
如有查詢,請聯絡SEN Services Team(3411 3353 或sce_sen@hkbu.edu.hk)。